We make delicious, creamy gelato that is good for you
We are an innovative gelato company with a passion for what we do is the driving force behind all of our actions. We believe in a deliciously conscious diet. By selecting honest ingredients, our decadent, creamy flavors can please the most demanding palates with a nutritionally rich treat. We bet on our values, ethics, responsibility, and sustainability to make a change in people's lives while allowing our world to thrive—one small scoop at a time.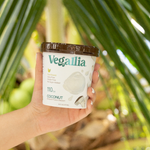 Our Story
It all started when Corina, our Founder/CEO, found herself with a health issue that required her to stop eating dairy and sugar. She realized how late in life we begin to take our health seriously, especially regarding what we eat. Corina wondered what would happen if we were efficiently taught to eat healthy as kids—to create healthy habits that are second nature. 
With a lifestyle need for a conscious, yet tasty treat, the quest to create Vegallia began. After years in our lab, with countless trial and error, supported by a team of nutritionists and food science specialists, Vegallia was born from plant-based, state-of-the-art, functional ingredients. All while tasting amazing! 
We decided to establish ourselves in Florida in 2017 with our manufacturing facilities, which not only have allowed us to make our dream come true, but also achieve a level of excellence with proven certifications.
With an infinite amount of flavor combinations, various product lines, and a newly branded image, our commitment to enrich people's life only grows stronger and gets tastier every year.