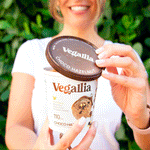 Doing Good In Every Pint
We craft our gelato with honest, functional ingredients—it's what make our flavors so creamy, tasty, and nutritionally rich. We source and work with fresh, state-of-the-art ingredients from fair trade and local producers that are certified non-GMO, vegan, gluten-free, and kosher for our frozen desserts. 
Our gelato has no added sugars—it only contains the natural sweetness from fruit and other plant-based ingredients including 100% natural and organic sweeteners that do not affect your glycemic index. Our flavors are all dairy-free, using a different plant-based milk for each flavor. We never use soy, HFCS, artificial flavors or colors.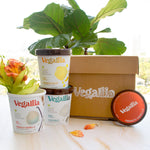 Our Commitment to the Planet
Green living is part of our every day lives, especially because we live on the coast of South Florida. That's why we strive for sustainable practices in all areas of our business to protect the ecosystems around us. From using recyclable packaging materials for our pints and foodservice containers to sourcing ingredients as locally as possible. Even choosing suppliers who can meet our planet-commitment standards. We optimize our manufacturing process and logistics to recycle and keep as much waste out of landfills as possible.
We're committed to be environmentally conscious. So, your next scoop won't just taste better, but it'll also make you feel good about having it.
Stronger & Healthier Communities
Since the beginning, we knew that our family wanted to contribute to building a stronger and healthier society. Driven by our passion for good food that promotes healthier choices, we've become advocates of deliciously conscious nutrition. We are ending the stigma that eating healthy means sacrificing taste.
In this mission, we have had the privilege to support an organization that rescues unprivileged children from malnutrition in our homeland of Venezuela. Bokitas not only nurtures children back to health, but also empowers mothers and care givers to generate change in their communities for lifelong improvement.